Donoso have partnered with SA innovator, Sage Automation to export the newly manufactured sanitizing system, Sanitizit.
Manufactured by SAGE Automation, the Sanitizit system provides fast and cost-effective sanitisation of supermarket trolleys and baskets works by spraying a fine, fast drying mist of sanitising solution, disinfecting the item. Although currently only being rolled out across supermarkets, Sanitizit has the potential to be used on luggage trolleys, wheelchairs, and hospital gurneys.
Donoso and our Chilean subsidiary, Global One SpA, are proud to be partnering with SAGE Automation to introduce Sanitizit to three South American countries – Chile, Peru and Colombia. Through this partnership, we are looking to increase the presence of this technology throughout Chile and expanding into airports and hospitals across the country.
The introduction of Sanitizit to South America is an important milestone not only during the COVID-19 pandemic, but also to the already strong and established trade relationship between Australia and Chile.
On Wednesday the 21st of April, we travelled to Sage Automation to meet with Managing Director & CEO Adrian Fahey, General Manager Paul Johnson and the SA Minister for Trade and Investment, Stephen Patterson.
South Australian Minister for Trade and Investment, Stephen Patterson MP said that it was fantastic to see local companies like SAGE Automation and Donoso & Sons partnering to create innovative products like Sanitizit to address emerging needs for sanitised items globally.
"As a Government we've prioritised opening up new markets for our exporters, which is why we've opened trade office across the globe in key markets and created a suite of export programs for businesses to take advantage of."
"I'd like to congratulate SAGE and Donoso & Sons for this significant export milestone, and I look forward to seeing their products rolled out in countries around the world,"
The first shipment of trial units were sent to Chile from Adelaide on the 23rd of April.
We look forward to continuing to strengthen trade relations between Chile and South Australia, continuing to provide innovative products around the world, where they are needed most.
Donoso & Sons Commercial Manger, Andres Donoso (Left) and Executive Director, Eduardo Donoso (Right) with SAGE Automation General Manager, Paul Johnson present a new Sanitizit system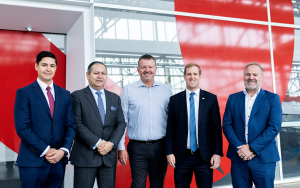 Left to right: Donoso & Son's Commercial Manager, Andres Donoso, and Executive Director, Eduardo Donoso, SAGE Automation General Manager – Product Development, Paul Johnson, SA Minister for Trade and Investment, Stephen Patterson MP and SAGE Group MD and CEO, Adrian Fahey.
Share LinkedIn